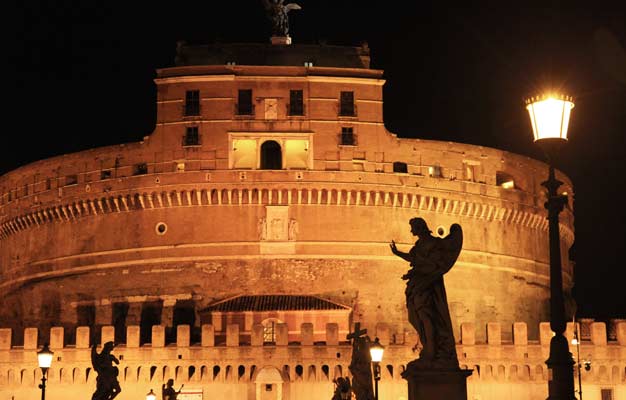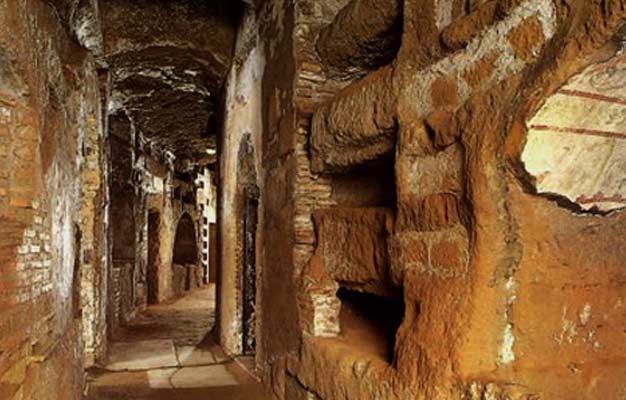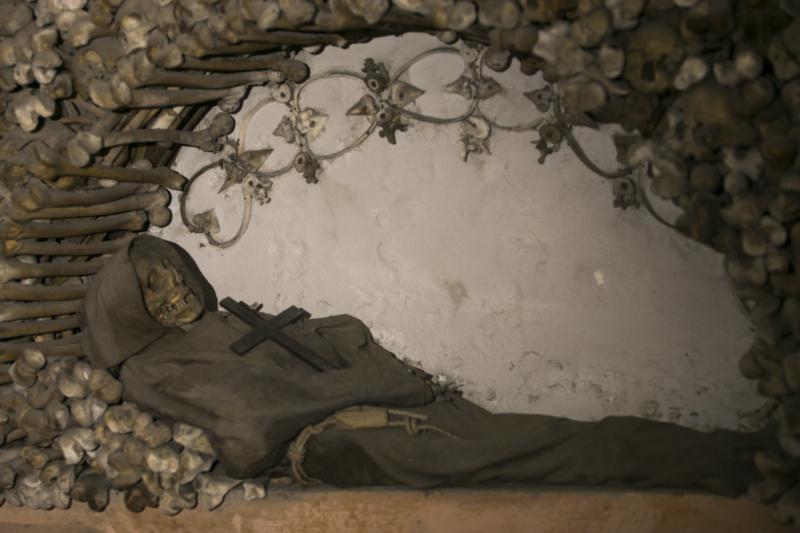 Roman Crypts, Catacombs & Dark Heart
Explore Rome's dark past on this eerie tour to the Roman crypts and catacombs! Visit an ancient part of the city and burial grounds layers beneath the modern busy streets.

Highlights:
- Discover Rome's dark past
- Explore the Roman Catacombs
- Visit Basilica San Clemente, which few ever see
- Experience the Capuchin Crypt - The Bone Chapel
- Enjoy a small tour group (max. 20)

Rome's Dark Past
This tour takes you deeper into the strange history of Rome, to the core of this ancient city. You'll visit three unforgettable sites with one thing in common – these are the most unusual and outlandish places in the Eternal City.
We'll start by visiting the ancient Roman Catacombs. Dating all the way back to the 2nd century AD, this extensive network of tunnels snaking beneath the city was once both a burial ground and a hiding place for the first Christians in Rome. Established in the days when Nero was famed for torturing Christians, the tunnels became a place for refuge as much as for burials and celebrations.
Next stop is the Basilica San Clemente, another site that few visitors ever see. Here you'll trace this route of a priest who thought he'd heard running water inside the church and experience first-hand the incredible layers of history.
You'll also get a tour of the Capuchin Crypt – known locally as the 'Bone Chapel'. Witness a real skull and crossbones, vertebrae chandeliers and full skeletons in their robes.
Enjoy some free time to have dinner at a local restaurant or to go for a stroll in the historical center of Rome.
As darkness sets in over Rome, a different city comes to light – a city of legends and mystery, where thousands of years of history left a story behind every stone. Together with your guide, you'll cross the Tiber and wander across piazzas, listening to unknown stories of murders and betrayals.
How do I get my tickets?
Shortly after your booking is complete your e-ticket will be sent directly to your email, just print it out and bring it on your tour.
Where does the tour start?
The tour starts at Piazza Barberini by the large Triton fountain. Please be there 15 minutes before your tour starts.

Where does the tour end?
The tour ends back at Piazza Barberini.
How long does the tour last?
The tour lasts 7 hours January to start March and approx. 8 hours March to November.

Is there a dress code?
Yes, entrance into religious sites requires a strict dress code. Knees and shoulders must be covered for both men and women. City Wonders and Ticmate cannot be held responsible for refused entry due to improper dress.

Does the tour involve walking?
This tour involves a fair amount of walking, hills, and stairs; comfortable shoes are recommended.
Are there children's tickets?
Yes, children's tickets are available for children between age 2-14. Children under age 2 are free when accompanied by a paying adult.

Important information:
- Please note that Rome is one of the most visited cities in the world, making certain sites extremely busy in high season. Careful planning limits our exposure to crowds, but please be aware that some locations may be unavoidably busy during standard hours.
Opening hours
The tour operates daily, except Monday, at 2:30 PM.
Duration: 7 hours 30 minutes
Opening hours
The tour operates daily, except Monday, at 2:30 PM.
Directions
Roman Crypts, Catacombs & Dark Heart
Address
Piazza Barberini 00187 Roma Italy
English helpdesk

020 3870 3444
Need help with your booking? We will gladly answer your questions.